Personal Exhibitions

1985
Emily Harvey Gallery, New York, USA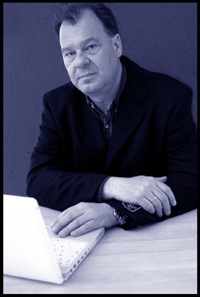 1986
Polaris Gallery, Paris

1987
Contemporary Art Gallery of Nice Museums, Nice

1988
Emily Harvey Gallery, New York, USA

1990
Polaris Gallery, Collection part N?2, Paris
M?ropolis Gallery, The exhibition, suite, Lyon

1991
"IMMACULATE CONCEPTION"
(9 Exhibitions for 10 years of work)
Jade Gallery, Colmar
G Gallery, Besan?n
Polaris Gallery, Paris
Duval ? Dunner Gallery, Paris
Lecointre - Ozanne Gallery, Paris
baudoin lebon Gallery, Paris
Gallery of Paris, Paris
Ghislain Mollet ? Vieville, art manager, Paris
Lola Gassin Gallery, Nice

1992
Confort Moderne, Poitiers

1993
Gandy Gallery, Prague (Republic of Czechoslovakia) with Ben, Jean Dupuy, Olga Adorno and Andr?Ducolombier

1996
baudoin lebon Gallery, Paris
Museum of Living History, Montreuil (With Keiichi Tahara and Miguel Egana)

1998
Bouvet-Ladubay art center, Saumur
Museum of modern & contemporary art, Nice

2000
Kahn Gallery, Strasbourg
baudoin lebon Gallery, Paris

2001
Armando Alvares Penteado Foundation, Sao Paulo, Brasil

2002
Architecture center 92, Sceaux
Lighting the west window or the refectory of the Abbey of
St Germain-des-Pr? for the inauguration of the new staircase creeated by the architects of the Dr?es de trames agency. Paris
Paul Bourquin editions, Art Paris
Town hall of the city of Bobigny

2003
Multiples, baudoin lebon Gallery, Paris
Art Fair Fiac 2003 baudoin lebon stand, Paris
Carmel chapel, Chalon ? sur - Sa?e

2005
Artcurial, retrospective publication's, Paris

On-going:

2006
Spicy Gallery, Brussels (Patrick Amine, curator)

2007
County museum, Gap
Jos?Martinez Gallery, Lyon

Group exhibitions (selection)

1987
Contemporary Art Gallery of Nice Museums, Nice
Contemporary Art Center, Meymac

1988
?A la lettre? presented by Emily Harvey Gallery, Pierrefeu
Four young French painters, Olympic Games at Seoul (South Korea)

1989
French Survey Show, organised by baudoin lebon at the Torlano Gallery, Melbourne, Australie
National Mus?m of Modern Art, Tokyo, Japon
National Mus?m of Modern Art, Kyoto, Japon
Fashion and costume museum, Paris

1991
1900-2000 Gallery, ?After Duchamp?, Paris
The Contemporary Art House, (with Marcel Mar?n and Skall), Douai
Exhibition on forgeries, organised by the Cartier Fondation

1992
Marie Puck - Broothaers Gallery, Brussels, Belgique

1995
"Blue for girls, pink for boys". French national college of Art and Architecture. Paris

1996
Art Grandeur Nature in Seine St Denis
Creation of a work with Raymond Hains presented at the Daniel Templon Gallery, Paris

1999
Art & Writing, Sculfort Space, Maubeuge. Co-created with Idem+Art and Frac Nord-pas de Calais.
Writing in art, Daniel & Florence Guerlain Foundation, Les Mesnuls
Bunkier Sztuki, Krakow, Poland
Bourdelle Museum, Paris
Kahn Gallery, 10 x 10, Strasbourg

2000
Franck Gallery (a work with Raymond Hains) choice of Gilles Fuchs
The health of garbage , Ziem Museum, Martigues

2001
Chamarande Art Center, (departmental order for the center)
Martine and Thibault de la Ch?re Gallery

2002
Grimaldi Forum Monaco, World-wide exhibition presented by the Navarra Gallery
Ziem Museum, Martigues
Belleville Space, Humor in contemporary art.
Huyndai Gallery, Seoul, Korea
Portraits of free artists, Patrick Amine, curator, Infinito Gallery Ltd, Turin, Italy

2003
Selest?Art 2003, Philippe Piguet curator, S?estat
Sculpture material, Michel B?oix, curator, Marseille, Salon de Provence, Arles

2004
Humor and art, guest of honor of the exposition, Lille
Take it or leave it, Art librairy of Caen
?Segnali inquieti ? Peccolo, Gallery, Livorno, Italy
St Germain trail, Montblanc boutique, Paris

2006
Museum of art and industry of St Etienne, St Etienne
Modest art museum, S?e
Jos?Martinez Gallery, Lyon


Private Collections in France, Germany, Japan, Switzerland, Quebec, United States, Belgium, Republic of Czechoslovakia, Scandinavia, Italy

Public collections, city of Amiens, city of Villeurbanne, County foundation of Seine St Denis, General Council of Essonne. Ziem Museum of Martigues. Regional Foundation of Contemporary Art of Alsace.